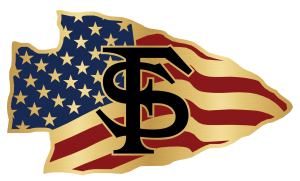 Veterans Alliance
The Veterans Alliance is the proud symbol of Florida State's campus-wide commitment to veteran success, and merchandise with the arrowhead symbols is available for purchase at Garnet and Gold (garnetandgold.com). This Tallahassee retailer generously provides 70% of the net proceeds from its arrowhead-merchandise sales to veteran services at FSU.
Graduate Students
Florida State provides current and former service members a wealth of highly regarded options for advanced study. Graduate education at FSU includes more than 220 master's, specialist, and doctoral degree programs, as well as professional programs in law, nursing and medicine.
Prestigious and Affordable
Florida State is one of the Top 20 public universities in the country, and the support the Student Veterans Center provides the university's veteran/military students has established FSU as a national beacon of veteran support and success.
Designated a preeminent university by the state of Florida, FSU combines acclaimed strength in the arts and humanities with renowned leadership in the sciences. Owning to its nationally ranked programs, distinguished faculty and championship athletics, Florida State is one of the most recognized and respected universities in the world.
Admission
Admission to Graduate School is competitive and students must meet both university and departmental requirements. Information on applying is on the Graduate Admissions website, and The Graduate School Enrollment Team is eager to provide assistance. Please note that some academic programs impost more restrictive admission requirements (and most have earlier application deadlines) than those established by the university.
Online Graduate Programs
A number of Florida State's highly regarded graduate degrees may be earned entirely online. Federal VA educational benefits – as well as tuition assistance through the military branches –  may be applied to FSU's online programs. In addition, tuition waivers are available for eligible out-of-state veterans and their dependents. Visit the Office of Distance Learning website for more information, and refer to the Student Veterans Center's Application Checklist for information on applying for benefits.
Veterans' Voice in Student Government
Veteran/military students have the opportunity to participate in campus governance through the Congress of Graduate Students. COGS is a coalition of grad students who represent FSU entities within Student Government and it includes one seat for a Veterans Advocate. This position is typically filed by a graduate student who is a military service member or veteran.
Through participation in COGS, veteran/military students benefit the entire graduate-student community at Florida State – and particularly its veterans – while also sharpening their leadership and professional skills. The only commitment is a biweekly meeting.